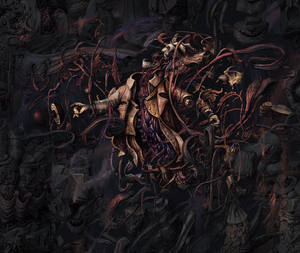 Anti-Object Task Force is a thought in Disco Elysium.
Description
[
]
Problem
[
]
Take a look at your hands. See how bruised they are? See those little scars? This is Exhibit A. The material world is holding you back. Containers, mailboxes, doors, chairs -- they are all your enemies. Always have been. Atoms themselves are in on the conspiracy, forming shapes and structures that you hate. You are energy stuck in a body. You are spirit trapped in matter. Break free! Beat up that lamp post! Let it know just how much objects *suck*.
Solution
[
]
Behold: the Anti-Object Task Force has assembled. God's avenging angel, arrayed against the lower emanations of the Darkened One: shoe racks, tape recorders, motor carriages. And doors. So many doors. You're not just pounding it all to pieces. You're *reforging* the universe. From the anvil of the heavens to the worms below. Indulge in it. Be bold. Have an *impact* on the shape of Creation. Out of the furnace of your rage -- a new reality! Also, you should trash your room *again*.
Effects
[
]
Temporary research bonus:
Bonuses from the thought:

Attacking physical objects heals damage
+1 Pain Threshold: Thick skin
All FYS learning caps raised by 1
Location
[
]
Hitting physical objects with your bare hands/feet.

Punch Disco Dancer's Front Door (Requires Half Light 4+)
Kick the Mail Box near Kim's Car BEFORE you get the white envelope from Evrart
Kick the Mail Box near Kim's Car AFTER you get the white envelope from Evrart
Kick the door on Disco Dancer's balcony (Day 2+)
Kick the Furnace in the Doomed Commercial Area
Kick the Dumpster after failing to open it with the prybar.
Punch the Hawthorn Tree near the Waterlock (Requires the Task to make Van Eyck's Jame harder core.)
Notes
[
]
Since hitting most (all?) objects deals -1 health to you, this makes hitting objects "neutral", as long as you have >1 health (or you will die).