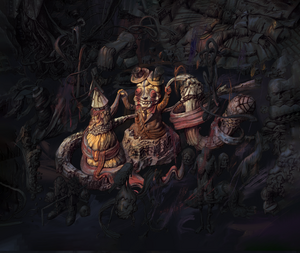 Indirect Modes of Taxation is a thought in Disco Elysium.
Description
[
]
Problem
[
]
First, if you have a side-bitch ideology cooking somewhere, don't sweat it. Fightin' indirect taxation for the Gossamer State is compatible with *all* creeds. It's cool like that. You're a cool anarchist now. Unless you don't want to be an anarchist. Whatever! Stuff this meal ticket in your eye-socket and let's see if we can steal some *love* back from the robber barons at the customs agency and the *banditos* at The Insulindian Financial Oversight and Competition Committee.
Solution
[
]
Turns out those Financial Oversight Committee gangsters stuffed millions of hard-earned dividends away in the last place anyone thought to look: the hearts and minds of everyday Revacholians! You need to spread that deregulation gospel to the *people*. Tell them about that foreign fare tax. Preach that 98% gross burden. Preach it, preacher man! Set the brothas free. Taxes are racist.
Effects
[
]
Requires 1h 45m research time
Research:
Completion

-1 Empathy: Thinks he's a hustler or something
Ultraliberal dialogue options give +1 reál
Location
[
]