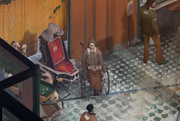 | | | |
| --- | --- | --- |
| " | "Oh sweetie..." she smiles a sad smile. "It's really not. There used to be people who thought that way -- other people, who wanted those things -- but... they all went extinct." | " |
Lena, the Cryptozoologist's wife is a character in Disco Elysium.
Background
[
]
Lena is an old woman married to Morell, the Cryptozoologist. She visits the Whirling-In-Rags cafeteria for tea.[1]
Two decades earlier, she was a training and development manager working for a mail-order shoe company, and suffering an accident underneath faulty scaffolding, which made her paraplegic.[2][3] She is one of the first characters to show kindness towards Harry.
She and her husband are friends with Gary, the Cryptofascist,[1] something that is better understood as Lena makes the occasional racist or "old-fashioned" remark.[4]
Interactions
[
]
Behind the scenes
[
]
Lena is voiced by Tegen Hitchens in The Final Cut. She was voiced by Ev Ryan in the original version of the game. Ryan's performance gives Lena an English accent, while Hitchens' performance is more along the lines of a Southern U.S. accent.
During early stages of development, Lena was planned to be another member of the party who could accompany the player. This was later scrapped due to issues with pathing involving her wheelchair. The game makes reference to this cut idea, as the player can ask Lena to join them, which she politely declines, stating that Martinaise is not the most wheelchair-accessible place.
References
[
]