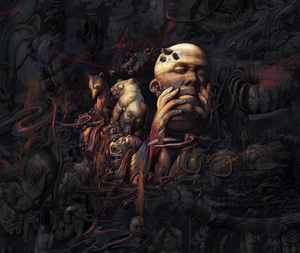 Overproductive Honour Glands is a thought in Disco Elysium.
Description
[
]
Problem
[
]
They say nameless heroes need no credit. Doing the right thing is reward enough. But deep down, an honourable man knows there will be a reward. Oh yes, the Honourable shall inherit the world, and you, Compte de Honore, will lead the charge with your thumb held high. What you need is a creed. An oath. A great oath of honour. Flex your honour glands, see if you can come up with something.
Solution
[
]
Here it is. It's titled "Honour: For the Brave" and goes: "I have no family; I make *honour* my family. I have no home; I make *bravery* my home. I have no desire; I make *dignity* my desire. I have no friends; I make *humility* my friend. I have no enemy; I make *dishonour* my enemy. This is my vow of honor -- for the brave. I am brave." Something like that. It's not the words that matter, it's the honour.
Effects
[
]
Requires 20m research time
Research:

-4 Drama: Dishonourable to lie

Completion:

Reputation Bonus: +25.000 honour points (note: it's fake, it doesn't change the amount reported for e.g. achievements in your ledger)
Learning cap for Authority raised to 5
How To
[
]
Gather enough Honour Points by doing "honourable" activities, in general by being a honor show-off (e.g. first doing dishonorable stuff and later fixing the results)
Your Authority will contact you, to perform "The Rite of Honour" (this also triggers for some reason when putting on Fairweather T-500 Greaves)