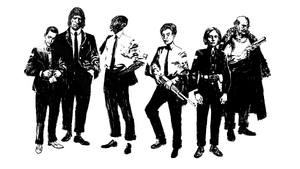 Precinct 41 is a Station of the Revachol Citizens Militia, located in Jamrock.
Background
[
]
Precinct 41 oversees the "legendary" district of Jamrock,[1] comprised of the Pox, Villalobos, Central Jamrock, Grand-Couron, Old South, and the Valley of the Dogs.[2] The station is organized into four wings, A, B, C, and D.[3] It is implied that the station has an unusually low clearance rate for cases.[4][5] Despite this, Kim Kitsuragi claims that the other precincts respect the 41st, understanding that Jamrock is far too large a district for one precinct to handle. Moreover, they respect Captain Pryce.[6]
Most of the officers are men,[7] and it is implied that this has cultivated an overly masculine environment.[8] The C-Wing, as referred to by Jean Vicquemare, is "made of losers and clock-punchers," and was eventually re-conceptualized as the Major Crimes Unit task force under Harry Du Bois and himself.[3][9]
When asking Kim about the "pissing competition" between precincts 41 and 57, it can be uncovered that the 41st rivals Precinct 57 as to who was to take charge of police work in Martinaise.[10] Though it is a district both wish to avoid,[11] the feud has been ongoing for three decades and has become a point of pride; neither station wants to lose Martinaise to the other.[12]
The building is a repurposed silk mill 18 kilometers south of Whirling-in-Rags,[13] shaped like a ladybird with two chimneys,[14] situated atop the Motorway 8/81.[15] Though there are few exact details, the station has a dome roof,[16] uses green desk lamps,[17] has a coffee corner,[17] has stairs,[18] and has a bridge.[19] There are a line of motor garages with armored vehicles.[13] Captain Pryce keeps a horse in the garage.[20]
Members
[
]
Here is a list of known members of Precinct 41:
Berdyayeva, unknown (most likely Captain or higher)
Chad Tillbrook, Junior Officer
Chester McLaine, Satellite-Officer
Émile Mollins, Patrol Officer
De Mettrie, unknown
Hans Blau, unknown
Harrier Du Bois, Lieutenant Double-Yefreitor
Jean Vicquemare, Satellite-Officer
John McCoy, Lieutenant Double-Yefreitor
Judit Minot, Patrol Officer
Jules Pidieu, Communications Officer
Mack Torson, Sergeant
Michel Williams, unknown (most likely Patrol Officer)
Nick Feuerbach, Lieutenant
Nix Gottlieb, lazareth
Ptolemaios Pryce, Captain
Roberts, unknown
Sundance Fischer, Patrol Officer
Trant Heidelstam, civilian consultant
There are far more people working in the 41st than listed above.
Here is a list of known former members of Precinct 41:
Trivia
[
]
References
[
]