The Revachol Citizens Militia, or RCM, is the police force for Revachol.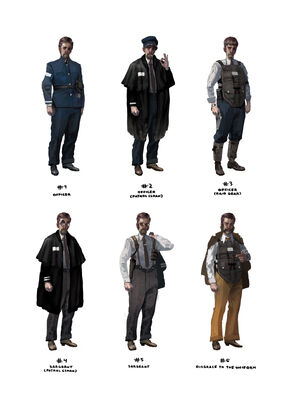 Background
[
]
History
[
]
The RCM is the self-organized peace corps of the occupied city of Revachol, the RCM operates within a legal twilight, yet its authority is rarely questioned.[1] It was either formed by the Coalition Government to restore order to the International Zone after the Antecentennial Revolution or formed by the citizens of Revachol.[2] The RCM may be a descendent of the Insulindian Citizens Militia, or ICM, in structure and purpose.[3][4][5]
Culture
[
]
The current motto for the RCM is "Justice, Union, Prudence, and Force." Previously, it was "After life, death; after death, life again. After the world, the pale; after the pale, the world again," a common exaltation in Dolorian sacralism. However, it was changed for being too "subservient" to the Moralintern and too "feminine."[6]
It is implied that the RCM is male-dominated.[6][7][8] However, its female officers are put to the same standards and do equally well as their male counterparts.[9]
Many of the RCM's fashions, even weapon preferences, borrow heavily from classic Vespertine cop shows.[10] Moreover, Dick Mullen, the popular fictional detective referenced by officers of Precinct 41, is Vespertine.[11]
Officers widely practice the Stations of the Breath: a holdout from Pre-Dolorian burial rites. It involves placing a hand on a deceased person's chest for a few seconds.[12] If the body of the deceased isn't present, there is a variation where one places a hand against their chest then extend the other outward, palm flat to the air.[13]
"Sunrise, Parabellum," an old revolutionary saying meaning "Sunrise, Prepare-for-War," is a favored phrase among cops.[14] Ace's High, another revolutionary custom, is also used by cops.[15]
Flaws
[
]
It is generally recognized that the RCM has its difficulties. It relies on donations,[16] and, by extension, good PR to continue running.[17] Harry can claim that the RCM is chronically mismanaged, deeply corrupt, and completely outmatched.[18] If Harry asks for pay raises and generous benefits for RCM officers from the Mega Rich Light-Bending Guy, Kim Kitsuragi defends the RCM by stating that the RCM's problems are mainly structural. They lack clear lines of authority and their system of performance reviews disincentivizes inter-precinct cooperation,[19] as made apparent by Precinct 41 and Precinct 57's rivalry over Martinaise.[20]
Moreover, the RCM's reliance on volunteers has a detrimental effect on its effectiveness. Clearing 10 cases a year is enough to put a policeman in the 90th percentile.[21] This is reflected by statistics: in '50, the year before the in-game events, more than 71% of murders in Revachol went unsolved. In Revachol West, that number was closer to 85%.[22]
RCM officers are paid very little.[23] In the Northwest Region of Revachol, an officer's average yearly income is 5,500 reál, unadjusted for rank.[24] As such, many cops take bribes to survive.[25]
Organization
[
]
Divisions
[
]
The RCM is split into specialized divisions. The ones known are listed below:
The Constabulary, responsible for expenses, bookkeeping, and investments.

It turned down requests for ceramic armor for the RCM's tactical units for years, in which time six officers died under semi-automatic fire.[26]

The Counter-Truancy Task Force, looks for junior delinquency.
Criminal Investigation, investigates crimes.
The Emergencies Desk, in charge of receiving citizens calls.
The Searchlight Division, locates missing persons.
The Ethics Division, coordinates activities with the Coalition.

It is composed of high-ranking RCM officials and their medium-ranking Moralintern counterparts. It's considered a career-making assignment for elite RCM officers.[32]

Inspectorate General

, in charge of internal affairs.
Kim Kitsuragi jokes about the existence of the Remote Viewers Division, which investigates the paranormal.[35]
Precincts
[
]
RCM forces are divided into Precincts, each with it own Station. Precincts are tasked over districts in Revachol. The ones mentioned in-game are listed below:
Presumably, each Precinct has a Communications Officer, who takes calls from other RCM Officers, and a lazareth (a term used interchangeably for the station doctor and the station medical facilities), which provides medical services[36][37] and a space to perform autopsies.[38]
Structure
[
]
The RCM uses the Décomptage system, modeled after the dual-leadership system employed by the left during the Revolution, which in turn was developed by last century experimental psychologists in the University of Koenigstein.[39]
The known ranks are, from highest to lowest:[40]
Captain
Lieutenant
Sergeant
Patrol Officer
Junior Officer
There are also satellite-officers and yefreitors, kinks in the system that go in-between ranks.[40] A satellite-officer is an officer whose partner has been quickly promoted through the ranks and has their own rank rise accordingly.[41] The title of yefreitor is added to an officer's rank when they decline a promotion to a higher rank.[42]
Partnerships can be formed between officers of differing ranks without one becoming a satellite-officer. Junior Officer Chad Tillbrook is partnered to Patrol Officer Émile Mollins, but Tillbrook is not called a satellite-officer. However, this may be because Tillbrook is a junior officer.
Junior officers are usually teenagers; the minimum age to join the junior officer program is fifteen.[43]
Lieutenants are the highest rank to still do field work,[44] and each lieutenant is responsible for two sergeants and eight patrol/junior officers, along with their personal affairs.[45]
The honorary rank of Detective signifies the officer's ability to handle all four phases of the incident chain, those being: 1) Investigation of the scene; 2) Initial examination of the victim; 3) Field autopsy; and 4) Transport of the corpse to the morgue.[46]
Training
[
]
RCM officers go through training, though exact details of what this entails is unclear. It is mentioned that this training is expensive.[47] In cut content for the Damaged Ledger, it is said that trainees pick a civil specialization to keep the city running, such as fire safety, first aid training, building safety regulation, etc.[48]
It is RCM-wide policy for officers to pass Elementary Radio Operations.[49] This implies that different precincts have differing requirements to become a fully-fledged RCM officer.

Law and Code
[
]
Acts
[
]
The RCM's responsibilities are defined by three main acts—the Emergency, Wayfarer, and Aliments Acts—that keep Revachol in a laissez-faire stasis that benefits the Moralintern and Coalition government.[50]
Emergency Act
[
]
The Emergency Act, also known as the Emergencies Act, is implied to be the most important of the three acts. It represents the half century of Coalition control in Revachol and also grants the RCM the authority to police its citizens.[51] Under this act, it is technically not illegal to give bribes to officers of the RCM, as long as they are properly logged as donations.[52] Under the Emergencies Act of Trade and Aliments, businesses are not obligated to reveal trade secrets to the RCM.[53] It is also implied that the Emergency Act makes it difficult for unions to form.[54]
Wayfarer Act
[
]
The Wayfarer Act governs human interaction in Revachol, designed to limit the authority of local institution and keeping the city in limbo.[55] Its provisions prohibit RCM officers from demanding operator licenses[56][55] or evicting citizens from a public space,[57][58] and presumably grants the right for a citizen's words to not be used against them in court.[59]
However, confessing to a crime before an RCM officer will result in automatic suspension of Wayfarer rights, with information provided becoming admissible evidence in a court of law. Suspects are subject to arrest, and have the right to legal counsel within one week, and a trial in 44 days after arrest.[60]
Aliments Act
[
]
Only mentioned by name.
Miscellaneous Laws
[
]
Laws not explicitly listed as provisions under the three acts are jotted down below:
Code
[
]
There are, at most, 190 criminal codes.[67] Only Code 31, denoting an emergency, is ever mentioned in game.[68]
However, the RCM employs relay codes for communication,[69] used in-game by communication officers Jules Pidieu and Alice DeMettrie. Below are a list of known relay codes and their potential meanings:
Punishment/Sentencing
[
]
Criminal offenses can be addressed in a multitude of ways. For minor offenses, misconduct fines ranging from 20 to 250 reál can be issued by RCM officers. For severe offenses, the fine can go up to 1,000 reál, but this requires special paperwork.[77] Officers can also write a station call, which mandates that the person who received the slip must show up at an RCM Station at the written date and time.[78] Felons who receive jail time, on the other hand, are sent to the River Esperance Correctional Facility, run by the Coalition, dubbed "Reunion" by its inmates.[79]
Pre-detention can take up to several years.[80] Murder is punishable with four years in Reunion.[81]
Equipment
[
]
Basic Equipment
[
]
The RCM provides its officers with a substantial amount of equipment to help them execute their duties. Officers will generally have access to service uniforms, in signature Perseus Black for formal uniforms (standard to all ranks, with some of the highest ranking officers continuing to wear them) and denim blue for patrol versions. Officers may elect to wear their own clothing. Such plainclothes officers will still wear the distinctive white clips sewn onto their clothing.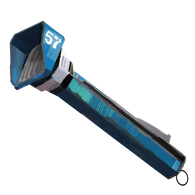 Each officer of the RCM is equipped with an 8x6 cm badge,[82] a gun with non-jacketed, cast conical ammunition,[83] insignia,[84] paperwork,[85] and clip, marked with perforations. The insignias look like hollow white rectangles, but are in fact halogen watermarks bearing "RCM" and a pattern that symbolizes the street grid of the officer's district.[86]
The clips track three vital statistics: years of service,[87] cases solved,[88] and the number of kills.[89] Flashlights (manufactured by Grundstellung RAO) are also provided to officers.
Paperwork
[
]
Below are the three types of forms in RCM paperwork, used by Harry Du Bois and Kim Kitsuragi:[90]
Misconduct Fine: A monetary penalization that ranges from 20 to 250 reál. It can go up to 1,000, but that requires special paperwork.[77] Printed on thin, translucent, neon yellow copier paper.[90]
Station Call: Gives a date and time to show up at a Precinct Police Station, with a list of criminal charges underneath that may apply if they do not appear.[78] Printed on thin, translucent, neon yellow copier paper.[90]
Field Autopsy Form: Thin, bright red copy paper with parameters to fill in for a deceased human form.[91] Below is a detailed overview of what is included within the form.
Eleven Field Info Form

Assistant
Coroner's case no.

Coroner's case no. is formatted with the coroner's initials, followed by their precinct number, then the date and time they arrived.[92] The date is arranged in a day, then month format. (i.e. HDB41-0803.1015)

Name (of victim)
Date of Birth
Age
Race
Sex
Date of Death (i.e. 04.03.'51)
Body Identified By
Case Number (same as Coroner's case no. in some instances)
Evidence of Treatment

External Examination: Summary

Clothes, Tattoos
Build, Height, Weight, Age, Hair (includes body hair)
Preservation, Lividity
Brief description of injuries (elaborated in later section)
Genitalia
Scars
Hands (for signs of struggle)

Internal Examination: Summary

Respiratory System
Hepatobiliary
Toxicology
Serology
Cardiovascular
Gastrointestinal

Description of Injuries: Summary

This section has four spaces for types of injuries identified in previous sections of the autopsy.
Underneath each space are two boxes labeled "A: Fatal" and "B: Non-Fatal." Non-fatal injuries can be labelled as "post-mortem."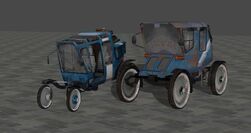 Transportation
[
]
Some officers are provided motor carriages, painted blue and white,[93] equipped with a shortwave radio that contacts their station[94] and bearing its precinct number.[93] They may also be armored.[95][96] Each costs around 40,000[97] or 45,000 reál.[98] Other cops ride horses.[99]
Trivia
[
]
In some dialogue, sometimes from one sentence to the other, RCM could either be written "Revachol Citizens Militia" (which seems the most recurrent), or "Revachol Citizen's Militia".
In interviews, ZA/UM has mentioned that they were inspired by American cop shows. This may be the reason why the RCM models itself on Vespertine cop shows.[10]
One of the founders of the RCM is Captain Ptolemy Pryce's father.[100]
References
[
]