Siileng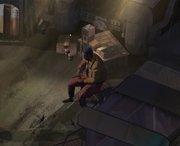 Siileng is a character in Disco Elysium.
Siileng is a Samaran citizen from Siigay and the "Humanitarian Aid Guy." In practice, he runs a shop with cheap goods imported from Samara and elsewhere, selling them at a premium to the impoverished citizens of Revachol trapped in Martinaise.
It is not quite legal, as he's reselling humanitarian aid supposed to go to the citizens of Revachol for free; this is particularly noticeable with food packages, clearly marked Humanitarian Aid and Not for Resale, sold by Siileng at a measly ✤ 0.05 apiece...
Goods
Money
Salesman
Thought